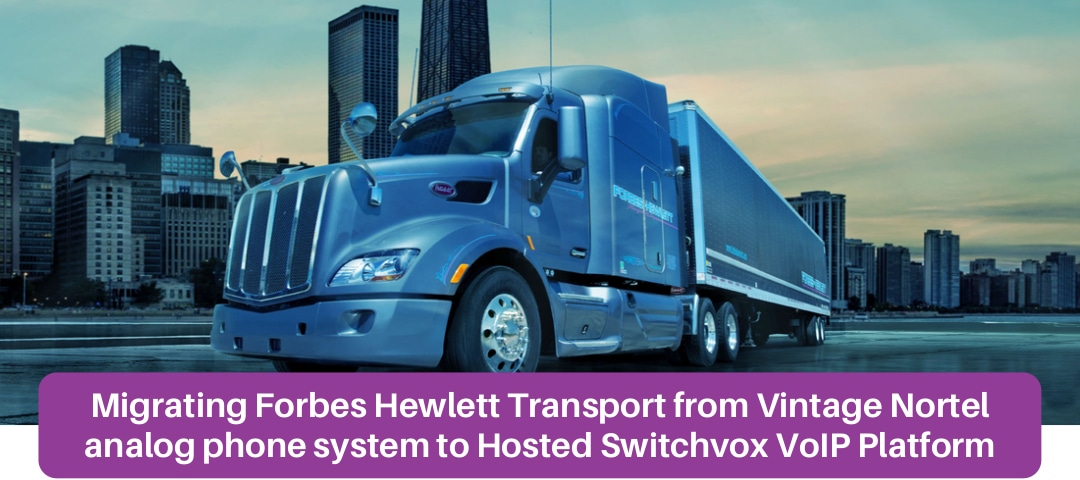 Inline Communications VoIP migration for Forbes-Hewlett Transport from Vintage Nortel analog phone system to Hosted Switchvox VoIP Platform.
Since 1985, Forbes-Hewlett Transport has been dedicated to providing flexible, comprehensive freight solutions. We've worked to cultivate a great company culture with a modern fleet and best in class driving force. Our company was built on the premise that each and every customer deserves a carrier they can trust, a carrier that operates safely, delivers on time and communicates pro-actively.
They require a robust and flexible phone system to support their dispatch and customer service operations.
Industries served includes: Retail and consumer goods, Hi-tech commodities, Telecommunications, Automotive OEM and after-market parts, and the Manufacturing industries.
CHALLENGES
Forbes Hewlett Transport(FHT) was the owner of an older Nortel phone system that no longer had manufacturer support. Replacement parts and servicing were becoming rare and expensive. Their phone system also required the use of costly PRI lines to function and handle their call volume.
Staying in contact with their fleet across Canada and the US involved making and receiving expensive long distance calls.
Employees had no way of working remotely.
As a trucking company with customer service personal, as well as dispatch to direct their truckers on the road, their failing phone system was becoming a liability that could no longer be ignored.
SOLUTIONS
Inline mapped Forbes' old Nortel phone system and provided improvements resulting in better functionality of the phone system by leveraging the enhanced communication functions of the Switchvox VoIP Platform .
The Switchvox phone system can take advantage of the modern version of phone lines, SIP trunks, that Inline provides.
The new system allows the creation of softphones for the pc or mobile phones.
BENEFITS
Forbes' staff are now able to stay connected while working from anywhere, thanks to virtual softphones they can use on their home computer or cellphone.
The Switchvox VoIP hosted cloud solution offers multiple redundancies for power and network connection, meaning Forbes' phone system is always answering calls. A local power or internet outage at their head office does not affect their ability to stay connected.
By moving to SIP trunks and the Switchvox VoIP hosted VoIP platform Forbes can scale and expand effortlessly, only paying for the lines used, while never running out of channels to make or receive calls.
With Inline all calls to the US and Canada are included, Forbes has realized a significant savings to their bottom line.