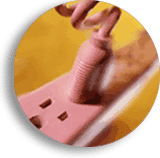 ---
Electronic Systems Protection (ESP)
---
"Utility companies cannot supply consistent power to run today's modern, highly sophisticated office equipment".
Electronic Systems Protection (ESP) supplies products that will protect against power disturbances and damage to sensitive electronics in your office. You will receive quality power that you can rely on. Using an ESP product will lower your costs by maximizing the operating life of your equipment.
---
Power Filters

Fax machines, photocopiers, computers, cash registers and modems are all victims of power irregularities. ESP is the specialist in power filters for these types of equipment!

¡ Application specific
¡ Multi-stage circuitry
¡ Longer equipment life
¡ Best transient overvoltage high-frequency filtering available today
¡ Unique On/Off switch never turns off protection
¡ Catastrophic equipment protection guarantee

---

 

MicroPower

Specifically designed for desktop computers, printers and terminals. Available in one, two, four or six receptacles. Also available in Photocopy and Fax machine versions.

---

 

QC Power

The ultimate protection for 32-bit processors, digital printers and network terminals. *Available in Photocopy and Fax machine versions.

---

 

QC Power Plus

Designed for high speed, top-of-the-line, highly sophisticated computer systems file servers and engineering workstations.
---
American Power Conversion (APC)
---
Surge Suppression is vital to the health of your electronic equipment, but the right solution must balance risk and cost. Whether you need basic protection, or the best protection money can buy, APC has a SurgeArrest to meet your needs. Each SurgeArrest model offers a guaranteed lifetime warranty from spikes, surges and RF noise that can cause hardware damage and data loss. Choose from many models, spanning four families: Personal, Professional, Network and Notebook SurgeArrests are available. Every model carries a lifetime warranty so you'll never need to worry again!
---
 

APC Personal Series

The Personal SurgeArrest series offers affordable protection, ideal for small office and home equipment like printers, modems and video equipment.

¡ $2,500 Lifetime equipment protection

APC Professional Series

The Professional SurgeArrest family offers great value for high-end home equipment and business applications including; high-performance stereo and video equipment, laser printers, telephones and modems. $10,000 Lifetime equipment protection. *Call us about the new Pro8 and Net8 series.

 

APC Network Series

The Network SurgeArrest series provides maximum protection for network business workstations and network modems. $25,000 Lifetime equipment protection.

---

Back-UPS Office

Back-UPS Office offers Multipath power protection for Internet and network computer workstations. Back-UPS Office, with instantaneous battery back-up, full-time surge suppression, site-wiring fault and common outlet protection, keeps your hardware and data safe. Ensure system continuity; protect your CPU, internal drives, external storage drives and monitor with battery back-up. Back-UPS Office protection means true Multipath protection, clean, safe power to every peripheral and instantaneous battery back-up to keep your cutting edge system from crashing.
¡ $25,000 Lifetime equipment protection

---

Back-UPS Series

Performance power protection for your advanced workstations. Back-UPS Pro instantly switches your computer to emergency battery back-up power and allows you to work through brief power outages without data loss or downtime. In the event of extended power failures, Back-UPS Pro utilizes PowerChute Plus to save your files and 'gracefully' shut down your equipment without loss of data. Back-UPS Pro also allows you to safely change batteries yourself eliminating the need for expensive factory servicing.
¡ $25,000 Lifetime equipment protection Guarantee with a two-year comprehensive product warranty

---

Smart-UPS Series

Smart-UPS delivers performance power management for advanced networks. Used primarily for file servers.

¡ Supports 400-3000 VA
¡ Also available in XL Series with longer run-times than standard
Smart-UPS and supports 700-2200 VA
¡ Includes PowerChute Plus software
¡ Rack Mount version also available

---

Matrix Series

For advanced, modular power management for datacentres and mission-critical servers. SmartCell battery system with hot-swappable batteries means 100% uptime and expandable. Need greater runtime? Simply add SmartCells or SmartCell XRs. Full software compatibility with all popular networks.

---

Symettra Series

IS Managers want to be able to "pay as they grow" to meet the computing demands of the future. Changes in datacenter power requirements can make cost-effective power protection planning difficult. The Symettra Power Array provides the flexibility to adapt and grow UPS power and runtime without complete re-investment.

The Symettra Power Array features a self-diagnosing tool that alerts network managers and/or a service provider in the event of internal failure. Manual and automatic bypass, power failure correction and Remote Emergency Power Off (REPO) are also featured. Both 1:1 and 3:1 systems are available.
---
Alpha
---
Safety and quality engineering has made Alpha products the international leaders in power protection. Designed to meet or exceed the safety standards established by UL and CSA, the Alpha CFR UPS is one of the safest, most reliable and versatile Uninterruptible Power Systems available. Alpha's commitment to safety and quality engineering has not only established industry-wide standards but has also earned Alpha Technologies international recognition as a leader in power protection products.
---
Alpha Wall Mount UPS

Why use valuable floor space? Wall-mounted UPSs allow easy access and increased usable space.
¡ Loads up to a maximum of 6 amps, 720VA or 500 Watts whichever limit is reached first
¡ Optional wall mount battery pack for longer back uptime

---

CFR Applications

CFR Group I 600VA, 1000VA UPS's
CFR Group II 1500VA, 2500VA UPS's
CFR Group III 3000VA, 5000VA UPS's in all models
CFR Group IV 7500VA, 10KVA, 15KVA UPS's
CFR NT Northern Telecom
All Systems Sensitive to Electrical Disturbances
Telecommunications Equipment
LCs, Robotics Factory Automation Equipment
LANs, WANs, Midrange Systems
Medical Diagnostic, Lab Test Equipment
Broadband Communications Hardware

---

Other Alpha Products

Safety and quality engineering has made Alpha products the international leader in power protection. Extensive product line and application sensitive.

¡ High-efficiency ratings (92%)
¡ Generator compatibility
¡ External battery packs
¡ On-board modems
¡ Self-test capabilities
¡ Exceeds safety standards (UL & CSA)
¡ Rackmount versions available
¡ Optimum flexibility