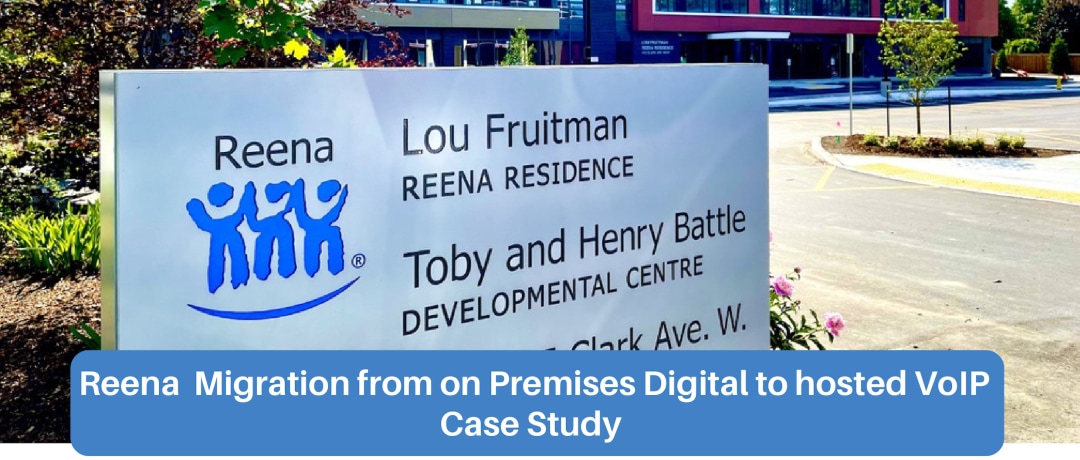 Inline Communications VoIP migration for Reena Foundation from a traditional PBX to a modern hosted VoIP platform.
The Reena Foundation's Migration to a Modern Hosted VoIP Platform from Traditional NEC PBX by Inline Communications.
Since 1973, Reena has been providing supportive housing, programming and community services for individuals with diverse abilities. Our non-profit's mission is to promote dignity, individuality, independence, personal growth and community inclusion for people with diverse abilities within a framework of Jewish culture and values. Reena offers a variety of services including residential support, respite programs, employment, community participation programs and advocacy.
The Toby and Henry Battle Developmental Centre was opened in 1999 for day and evening programs for children and adults with a developmental disability.
Recognizing the increasing needs of individuals with developmental disabilities as they age, Reena opened its first home dedicated to seniors in 2000, followed by another such home in 2007.
An innovative new housing alternative, the Reena Community Residence, was officially opened in September 2012. It provides apartments for 84 adults with developmental, cognitive, physical or mental health needs.
CHALLENGES
Reena is a non-profit organization that provides care and support for over 1000 adults with developmental, cognitive, physical or mental health needs. With a large staff spread over dozens of locations, and group homes requiring residential phone lines and on site staff, a robust and cost effective communications solution is essential.
Since the beginning Reena has been using a traditional PBX solution in the form of two NEC SV8100's. To support this system Reena had to spend thousands of dollars a month on phone lines, manufacturer support, and local technician support. IT staff would regularly have to reach out for assistance to make changes to the phone system.
Inline was brought in to support their existing PBX system, and slowly but surely gained the trust of Reena and their IT Team. When it became obvious it was time to upgrade Inline was entrusted with this process.
SOLUTIONS
Reena's VoIP migration to a hosted Switchvox VoIP platform in Inline's data center eliminated the need for costly PRI and analog phone lines. Reena's accounting department also benefited as they now only receive one consolidated bill from Inline for all of their telecom services.
Reena was able to keep all of their phone numbers as Inline took care of the porting process for them, consolidating hundreds of numbers from many different carriers into one account.
BENEFITS
Reena staff are now able to stay connected while working from home, thanks to virtual softphones they can use on their home computer.
Opting for a hosted cloud solution offers multiple redundancies for power and network connection, meaning their phone system is always answering calls. A local power or internet outage at a single location does not affect their ability to stay connected.
The Reena VoIP migration to SIP trunks and a hosted VoIP platform allows Reena to scale and expand effortlessly, never running out of channels to make or receive calls, and no extension or location limits.
With Inline all calls to the US and Canada are included at no extra charge.
IT staff no longer has to be on site to configure phones. Everything can be managed remotely with an online interface. This significantly reduced the amount of outside assistance needed to make everyday changes.